Partners
Ilana J. Drummond | Norman C. Plotkin
Senior Associates
Atessa Chehrazi | Daniel C. Horne
Associates
Nadia G. Johnson | Azmina Aboobaker | Loriani Eckerle | Angela C. Mapa
Jackson & Hertogs LLP ("J&H") is a law firm based in San Francisco, California, serving clients throughout the world. Established in 1950, we currently have seven attorneys and over 25 legal assistants and office management personnel to assist our clients with immigration matters. Our clients range from large multinational companies to recent start-up companies and individuals. J&H limits its practice to immigration and nationality law and specializes in corporate immigration issues.
Our service philosophy is simple. We partner with our clients to achieve the approval of applications and petitions from the USCIS and the Department of Labor as quickly and economically as possible. We utilize the latest office technology and employ a team of highly trained and experienced personnel. Our goal is to provide our clients with the shortest possible turnaround time-without compromising the quality of our work. We also utilize state-of-the-art technology in processing cases which provides updated case status information. Our corporate clients have the option of being "web-enabled" so that HR personnel and corporate employees can know the status of their cases at any time.
Immigration laws and procedures are constantly changing and it is vital to keep abreast of the most recent court decisions, proposed regulatory and policy changes and new laws and regulations as they are promulgated. To this end, we constantly update our web site and issue email bulletins to corporate clients. We maintain a complete immigration law library and our attorneys are active in the immigration bar and are frequent guest speakers in the area of immigration law and procedure.
Although our attorneys may emphasize one or more areas of immigration law, our clients are served by, and are clients of, the entire firm. This approach, coupled with our specialization, permits us to serve the large corporation as well as families and individuals.
Click here to view what our clients say about Jackson & Hertogs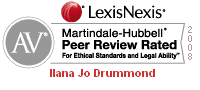 Ilana obtained her Bachelor of Arts degree in Anthropology and Psychology from California State University, Dominguez Hills in 1983 and her J.D. degree from the University of California's Hastings College of the Law in 1990. While at Hastings, she served as the Executive Managing Editor of the Communication and Entertainment Law Journal. Ilana joined Jackson & Hertogs in 1989, became an associate in 1991 and a partner in 2002. She has been the firm's managing partner since 2004. Having focused her practice exclusively on immigration matters for her entire career, Ilana has developed an expertise in helping large and small corporations address their immigration needs. Major areas of work include corporate immigration policy planning, working on the implementation of I-9 compliance programs including conversions to electronic systems and handling a variety of nonimmigrant (H-1B, L-1, TN) and permanent residency matters (PERM Labor Certification, Extraordinary Ability, Outstanding Researcher, Multinational Managers/Executives) as well as immediate relative cases. Ilana is a member of the State Bar of California, the Bar Association of San Francisco and AILA. Active in AILA, she served for three-years as a member of AILA's California Service Center liaison committee. In 2008-2009, she served as the Chair of AILA's Distance Learning Committee developing the organization's Podcasts, Webcasts and Teleconference programs. Previously, she served as the Program Chair for AILA's 2007 annual conference which attracts over 3000 attorneys from all over the world and in 2008. Prior participation included serving two terms on AILA's Board of Publications Committee, member of the Annual Conference planning committee for the 2006 convention, Editorial Advisory Board of AILA's Immigration Law Today and as an editor of AILA's INS Directory and Resource Guide. In 2004, Ilana served as Program Chair for the 17th Annual AILA California Chapters Conference "Riding the Waves". During the 2010, in addition to her involvement with the California Service Center liaison, she was also a participant in AILA's L-1 Taskforce group. For 2011, Ilana will continue to work with the L-1 Taskforce while also joining USCIS Benefits liaison committee. Ilana is an invited speaker at various venues including AILA conferences, Practicing Law Institute and HR conferences. She contributed a chapter entitled "Hiring International Workers in Today's Economy: New Challenges and Strategies" to Aspatore's 2010 edition of Employing International Workers. Ilana has received the Martindale-Hubbell® directory's highest rating ("AV") and is listed within its Bar Register of Pre-Eminent Lawyers, and has been listed in Northern California Super Lawyers since 2005. Ilana is also listed in Strathmore's Who's Who and in the International Bar Association's Who's Who Legal for Corporate Immigration and Who's Who Legal: California. [contact information]
Seriously Outstanding
only 5% selected each year
Norman obtained his B.A. degree from the University of Texas at Austin in 1980 and graduated from Tulane Law School in 1986. He joined Jackson & Hertogs in 1987 and became a partner in February 2002. Throughout his career, Norman has been active in AILA. Previously, he served as the editor of the Gold Book, a resource for practicing immigration law in California and as co-editor of the Western Region Directory for the Immigration Practitioner. He also was a liaison for the Northern California AILA Chapter to both the California Service Center and the U.S. Department of Labor. In addition, he was a member of the national AILA/California Service Center liaison committee and previously served on the national AILA/Department of Labor liaison committee. He has also lectured at seminars and conferences including three national AILA Conferences, the BIO International Convention, the BIO Human Resources Conference and the HR Star Conference. Norman was listed in the International Who's Who of Business Lawyers and was selected for inclusion in the Best Lawyers in America. He is fluent in Spanish. [contact information]
Senior Associates
Atessa specializes in H-1B, J-1 and O-1 nonimmigrant visas, J-1 waivers, labor certification for professionals, immigrant visa petitions not requiring labor certification, employment and marriage-based applications for permanent residency, and naturalization applications. Atessa has held various volunteer positions for the American Immigration Lawyers Association (AILA), and currently serves as a member of the USCIS Field Operations Liaison Committee, and the Rome District Chapter's Department of Homeland Security Liaison Committee. She served as Chair of the Northern California Chapter of AILA from 2008 to 2009, Vice-Chair and SF USCIS (Citizenship & Immigration Services) Liaison from 2007 to 2008, Treasurer from 2006 to 2007, Advocacy Co-coordinator from 2004 to 2006, and CBP (Customs and Border Protection) Liaison from 2003 to 2005.. On a national level, Atessa served on AILA's Administrative Appeals Office (AAO) liaison committee from 2005 to 2007, and the USCIS HQ liaison committee from 2005 to 2006, and again from 2007 to 2008. In addition, Atessa has served on the AILA Business Immigration Advocacy, Issues, and Due Process & Civil Liberties Committees. She is a member of the Iranian American Bar Association, Bar Association of San Francisco, and the National Lawyers Guild, and takes pro bono cases from local nonprofits such as the International Institute of the Bay Area and Bay Area Legal Aid. She has authored various articles published in AILA handbooks, including "J-1 Waivers for Physicians " (AILA 1999), "Myths and Realities of H-1Bs" (AILA 2004), "Non Labor-Certification Based Immigrant Visa Petitions" (AILA 2004), "Travel Issues for Students and Researchers" (AILA 2005), "Employment Based Petitions Exempt from Labor Certification" (AILA 2005), "Superstars of the Temporary and Permanent Variety: Nuances in the O-1 and EB-1 Categories" (AILA 2007), and "Administrative Appeals Office Practice Pointers" (2010). Atessa has presented at national and regional AILA Conferences, as well as conferences of the National Association of Foreign Student Advisors (NAFSA). Prior to joining Jackson & Hertogs in July 2000, Atessa practiced immigration law for four years with Maggio & Kattar PC, an immigration firm in Washington DC, where she handled asylum and deportation as well as business cases. Atessa received her LLM (Masters in Law) in International & Comparative Law from Georgetown University Law Center, DC in 1996; her JD from the Washington College of Law at American University, DC in 1995; and her Bachelor of Science from University of California, Berkeley in 1991. Atessa has been selected as a Northern California "Super Lawyer" in 2010 and 2011. [contact information]
Daniel obtained his BA degree from UCLA in 1991, and his JD degree from the University of Colorado School of Law in 1994, where he served as Production Editor of the University of Colorado Law Review. Daniel is a member of the State Bar of Colorado. Formerly a partner with the San Francisco immigration firm of Berry, Appleman & Leiden LLP - All rights reserved, and later with the firm Kuver Horne LLP - All rights reserved, Daniel now holds over a decade of experience assisting corporations and individuals with immigration and nationality matters. He has received the Martindale-Hubbell® directory's highest rating ("AV"), and is listed within its Bar Register of Pre-Eminent Lawyers. Daniel serves on the Editorial Board of Bender's Immigration Bulletin, a LexisNexis® periodical providing news and analysis to immigration lawyers nationwide. A long-standing and active member of AILA, Daniel is regularly invited to speak at both national and state AILA conferences, and he is currently an active member of AILA's Task Force on Compliance Auditing Standards. Daniel is an active participant in AILA's Military Assistance Program, which provides free legal representation to military members and their families. He also mentors attorneys providing pro bono assistance to asylum seekers through the Lawyers Committee for Civil Rights. [contact information]


Associates
Nadia received her Bachelor of Arts degree cum laude in English and Classical Studies from Boston University in 1999 and her JD from the University of San Francisco School of Law in 2004. Admitted to the California State Bar in December 2004, Nadia is also a member of the American Immigration Lawyers Association. During her undergraduate studies, she interned for the late Senator Edward M. Kennedy's office in Boston, Massachusetts and the Office of Massachusetts Attorney General Public Protection Bureau, Consumer Complaints and Information Section. She has been with Jackson & Hertogs since November 2000, working both as a Legal Assistant and as a Paralegal prior to finishing her law degree. [contact information]
Azmina received her bachelor's degree, with high honors, from the University of British Columbia, and her J.D. from Osgoode Hall Law School, the oldest law school in Canada, in 2006. She has represented numerous clients before USCIS and various consular posts abroad and has experience with all immigrant and nonimmigrant visa petitions, permanent residence, naturalization, and waivers of inadmissibility. Azmina has also assisted investors in obtaining EB-5 visas through investment in Regional Centers and independent business ventures and has worked with investors in securing Regional Center designation for various business entities. During law school, she was a student attorney in the Immigration and Refugee Law Clinic at Parkdale Community Legal Services where she represented clients applying for permanent residence on humanitarian and compassionate grounds under Canada's Immigration and Refugee Protection Act. Azmina also participated in the national Wilson Moot which focuses on constitutional equality issues and clerked for the Workers Compensation Appeal Tribunal. She is a member of the California and New York state bars and the American Immigration Lawyers Association (AILA). [contact information]
Loriani earned her B.A. from Wellesley College and her J.D. from the University of California Berkeley School of Law (Boalt Hall) in 2008. She was admitted to the California state bar in 2008. Loriani worked at Jackson & Hertogs as a legal assistant in 2004-2005. Prior to returning to Jackson & Hertogs as an attorney in 2012 she worked at a large international law firm representing clients in an array of matters in litigation, corporate and securities, and employee benefits. Loriani also represented pro bono clients in immigration matters and received an award in 2010 recognizing her contribution to a publication titled Children at the Border: The Screening, Protection and Repatriation of Unaccompanied Mexican Minors. During law school she taught law to students in a juvenile correctional facility and served as editor to the Berkeley Technology Law Journal. Loriani also served as a student attorney in the East Bay Community Law Center where she represented individuals living with HIV/AIDS in immigration proceedings. She has served on the board of several non-profit organizations and is a member of the American Immigration Lawyers Association (AILA). Loriani is a native Spanish speaker. She has been selected as a Northern California Super Lawyers "Rising Star" in 2011 and 2012. [contact information]
Angela graduated from the University of California at Berkeley with a bachelor's degree in Psychology and a minor in Spanish Language and Literature. She earned her law degree from the University of San Francisco School of Law. During law school, Angela earned a Public Interest Law Certificate, participating in the Homeless Advocacy Project and Street Law Program, teaching practical law to high school students. During law school and since being admitted to the California Bar, she has practiced Immigration and Nationality Law and handles all aspects of employment-based and family-based immigration, and post-permanent resident applications, including re-entry permits and naturalization applications. Angela serves on the Advisory Council for American Immigration Lawyers Association's (AILA) Northern California Chapter. She is a past board member of the Filipino Bar Association of Northern California (FBANC) and member of the National Asian American Pacific American Bar Association (NAPABA) and Asian American Bar Association (AABA) of the Greater Bay Area. She enjoys traveling and surfing. [contact information]